Thursday, July 15, 2010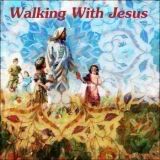 *To see what the Lord is teaching some other sisters in Christ check out the Walking with Jesus Meme over at Guiding Light Homeschool.
This week was though on me.   I've been dealings with mostly downs.   And it hit me bad about two days ago.   And then I remembered…
" Trust in the LORD with all your heart; do not depend on your own understanding.  Seek his will in all you do, and he will show you which path to take."  PROVERBS 3:5-6
Many Christians know this verse by heart.  
But it is always good to remind ourselves about the truth in it.
Trusting someone we don't see is hard at times – especially when you don't see what is in the future.  But God knows better than us.  He knows what is needed in our life and what is good for us.   So no matter what, we need to trust Him.
If I depend on my own understanding when I feel blue and depressed, then I might do something that will harm myself.   When you hit bottom and are teary eyes and can't seem to see a positive side, it's hard to think "happy" thoughts.
I'm fortunate to have an husband who is there for me.   And to be reminded – thanks for my daily readings – that God is always there no matter what is going on in my life.  
Why did I felt depressed this week?   I don't know.  Maybe not having enough time for myself, too tired, and realizing that finding a church family is taking longer than I would have liked.   So I cried out to my Father in heaven and asked him to direct us to a church where we can growth, have friends, support and love, where we can get involve and make a difference, where the kids will be comfortable and make friends too.   
I've read somewhere that when you are looking for a church, it can take up to a year to find something for your family.   I will not get discourage.  I will trust God that He will bring us to an amazing church. 
In the meantime, I will continue to read His Word, meditate on it, let God speak to me and homeschool my kids.   This is my calling for now.   And I plan to embrace it fully.
Oh! And I sense that God is guiding me to get to know him better by registering to a three-year program going on in a church in town.   I'm looking into it right now.   It is once a week from September through May and I would be among adults.   The only thing that is bugging me is that it is at the other end of the city which means lots of travelling.    So I am thinking about it, praying about it and considering it.   But if God is directing me on this path there must be a reason…. don't you think?
PS I'm glad that my sisters in Christ participating to the Walking with Jesus like the button I created last week. 
Welcome
Personal blog of a homeschool family. We love to travel with our RV when we can. Fishing, discovering new places, photography are some of our favourite activities!


Blog Archive