Tuesday, April 27, 2010
This morning I am blessed... well actually I was blessed yesterday evening. But before I tell you what I am blessed with let me tell you a bit more about my morning.
So I got up and saw shadows dancing in the window of the front door. At first I thought it was birds but then I saw more shadows - definetively not birds. It is 530am EST. A thought come to my mind and I simply reject it.... Can't be that! No Way! So I go to the window in our school room and I got surprised to see HUGE snowflakes. Gigantic snowflakes covering the ground, the vehicles and anything around it. And right now it is still going down. *sigh*
Blessings Galore!
So last night I went to the RVHEA meeting and the topic was Geography. Funny enough I was looking into this a week before. How to incorporate more geography in our school days? So when I heard about the subject of the meeting I wanted to go.
A school and another homeschol family had given some curricula away to bless others. It was first come first serve. So I found some interesting things. Here's a list of what I got (and btw there was still more things to grab when I left - other got tons of things as well).
Abeka Biology God's Living Creation (Field and Laboratory manuel and teacher book, Teacher's guide, Student tests, Quiz Key and Test Key)
Abeka Observing God's World (Teacher's Edition, Guide, Quiz Key, Test Key)
Abeka Investigating God's World (Book, Test Key, Teacher's guide, Quiz Key)
Abeka Enjoying Good Health (Book and Test/Quiz Key)
Abeka Choosing Good Health (Book, Student Test, Test Key, Teacher's Edition)
In Days of Yore - Medieval Studies
Excursions in Literature for Christian Schools Teacher's Edition
Close in on Language Comprehensive mini-units Grades 4-6
Vocabulary Booster Grades 5 & 6 Synonyms and Antonyms, Prefixes and Suffixes
Tapestry 3
McGraw-Hill Reading Grade 4
Languages Arts Thinking Motivators Grades 2 to 7
Skills Young Writers Grade 4
Usborne Hot Shots The Romans
Star Wars Episode I Anakin's Fate
Star Wars Wpisode 1 Anakin's Pit Droid
Star Wars Attack of the Clones Jango Fett: County Hunter
Star Wars Attack of the Clones Anakin: Apprentice
DK Readers Star Wars Journey Through Space
Finding the Titanic
Abeka Geography Studies & Projects Western Hemisphere Teacher's Key
Abeka Old World History and Geography in Christian Perspective
Learning Languages Arts Through Literature Red, Yellow, Orange, Tan, Grey and Green books which covers grades 2 to 9
The Canadian Spelling Program II
Spelling Connections 2, 3, and 4
Spelling Reinforcement activities Book 2
Language Power Book A & B
Nelson Language Arts What Should I Do?
Nelson Language Arts Making a Difference
Abeka Of People Literature
and finally, a pack of various papers including gel papers (you know the black ones...)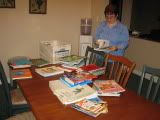 As you can see I am blessed a lot. I had nothing in spelling and nothing in Language arts really. I was considering Geography in a deeper level. There was interesting Math book but we want to stick with Math-U-See only. I don't mind if some books are missing (like the student books) in some of these because I can easily adapt it for my kids.
Thank you for the school and the home school family who gave away their curriculum. I am forever grateful for them...
Welcome
Personal blog of a homeschool family. We love to travel with our RV when we can. Fishing, discovering new places, photography are some of our favourite activities!


Blog Archive