Tuesday, November 3, 2009
5:12 AM | Posted by Canadianladybug |
|
Edit Post
Check out the cool chocolate my kids got during Halloween...! Isn't it cute?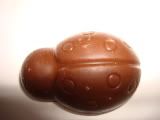 The best part is that my kids gave them to me because the REALLY know I love this little creature and that I am known to be the Canadianladybug on the net. I do have sweet kids! I love them. LOTS!
This little ladybug comes in three flavors - caramel, a green paste and a pink paste. The pink paste one is the best I think - flavor is like cherries.
Labels:
Little Blessings