Monday, November 9, 2009
1:14 AM | Posted by Canadianladybug |
|
Edit Post
This year, as part of our homeschool, we registered the kids for Awana. First time ever and they love it...
It is quite amazing how much they learn and how much I am learning too! So we practice verses all week and on Thursday nights the kids have to tell them to their leader.
We have one T&T, one Sparky and one Cubbie who are having fun going to their meetings.
My T&T is so eager that sometimes he does too much - so he has been told to slow down... Slow down we did. He has an advantage on the other kids because he is homeschool which means we incorporate the Awana lessons in our days. Obviously the kids who goes to school during the day do not have as much time to spend on their book/projects to do. So to make it harder I asked him to also do the silver and gold sections. In a recent project, he has to do a poster on creation.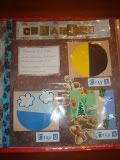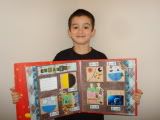 My Sparky has a blast. I find that it is more difficult for him to do memorization. He was having trouble with the New Testament books the last two week. Fortunately, his Sparks book came with a CD (which Jasmine had broken and we got a new one!) and I had bought the extra CD with songs as well. So we popped these in the CD player and listened to them. He was able to say them no problem after that.
My Cubbie is having fun. I'm glad he was able to adjust himself easily for this. I had a bit of fear but he is so happy of his vest and getting new patches for it. It is so cute.
While the kids are going to AWANA, hubby, Jasmine and I are having a date night. Mostly we do groceries... LOL but it has to be done. The funny part is that Jasmine doesn't want mommy to push the cart is has to be daddy - ALL the time. *grin* Daddy's girl through and through.
Labels:
Homeschooling my kids